Dubbed as a "Little Paris," Oran is a beautiful Algerian city with rich history, colonial buildings, and archaeological finds. Very little is known about Oran outside of Algeria, but it's slowly growing into a desirable tourist destination. From exploring ancient Ottoman ruins to admiring French Baroque architecture, here are a dozen things to do in Oran, Algeria.
1. Madagh Beach
Oran is home to one of Africa's best beaches. Madagh beach is a secluded spot tucked away between hills and is a proud oasis of locals. Not only can visitors swim and sunbathe, they can also snorkel and kayak around the area.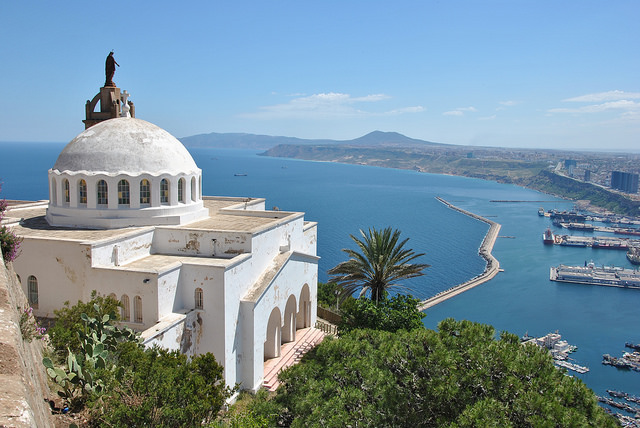 Courtesy of Maina Marjany/Flickr.com Creative Commons 2.0
2. Fort Santa Cruz and Chapel
While this ancient fort was built in 1577 when the Ottomans occupied Algeria, it's popular for the spectacular view the fort offers. Constructed at 1,312 feet high, the fort was used to watch for approaching ships or threats. The chapel was built in 1847 and remains a popular tourist destination to this date.
3. Le Theatre d'Oran
When visiting Oran, it's important to get your highbrow culture fix by catching an opera at the Le Thetre d' Oran.  The astonishing Baroque and French details on this building makes it the grandest place in all of Oran. But if you wanted to view the inside of the theater without seeing a show, be sure to find out the best time to go, as its known for having odd hours.
4. Abdallah Ibn Salam Mosque
Built in 1880 as a synagogue for locals Jews that lived in Oran,  the temple was eventually converted into a mosque after their expulsion in the 1960s. The synagogue was one of the 17 Jewish temples confiscated by Algerian government. Today, visitors can visit the Mosque with Moorish architecture and admire the beautiful glass artwork.
5. Marche Medina Jedida
If you wanted to buy a souvenir or sample some of the country's best olives or pastries, head over to the souk, Marche Medina Jedida. It's a popular place for both locals and visitors to explore the plethora of goods and get great bargains.
6. Go on a hike
A short taxi ride outside of the city will take you to a scenic hilly region. Tourists can hike and explore the quiet area while admiring the flora and fauna of Algeria. Be sure to go during the spring, winter or fall, as the intense heat of summer can be brutal.
7. Aïn-El-Turk
If you want to get away from the city and relax in a quiet beach town, head a few miles outside town to Aïn-El-Turk. This seaside city has many serene beaches, cafes, hotels and exotic plants. Not only can you enjoy the great nature in this city, but you can also meet the friendly locals who will show you their way of life.
8. La Cathedrale du Sacre Coeur
This cathedral turned into a library was built in 1904 and is influenced by Roman Catholic architecture. While you may not be able to check out some books yourself, the library is open to the public for visitors to browse and admire the historic building.
9. Visit the Sahara desert
Just outside of Oran, the Sahara desert is an exotic attraction for tourists to ride horses or camels to explore. The intense gold sand stretching out for miles will be quite a sight to see.
10. Palais de la Culture
This beautifully adorned building is home to many small theater performances and art gallery showings. When visiting this city, be sure to stop by for a concert and admire the colorful Algerian textiles.
11. La Gare d'Oran
There's no need to book a train trip to see this breathtaking Moorish revival railway station. Built in the 19th century, this historic place is definitely worth a look.
12. Citadel of Casbah
This ancient ruin is available to the public to browse and admire. However, some ruins are so damaged that it's declared dangerous to go inside, so it's best to keep your tour outside.
More from AFKTravel:
15 Things You Didn't Know About Algeria