Is there any animal more photogenic than the penguin? We think not. Which is why we have devoted a whole slideshow to the cute critters, specifically the inhabitants of Boulders Beach, near Simons Town, South Africa. The African penguin (Spheniscus demersus), lovingly referred to as the "jackass" penguin, only lives in the waters of South Africa and is currently classified as endangered. Here are 10 amazing photos of the penguins of Boulders Beach doing what they do best — being cute — plus some silly captions.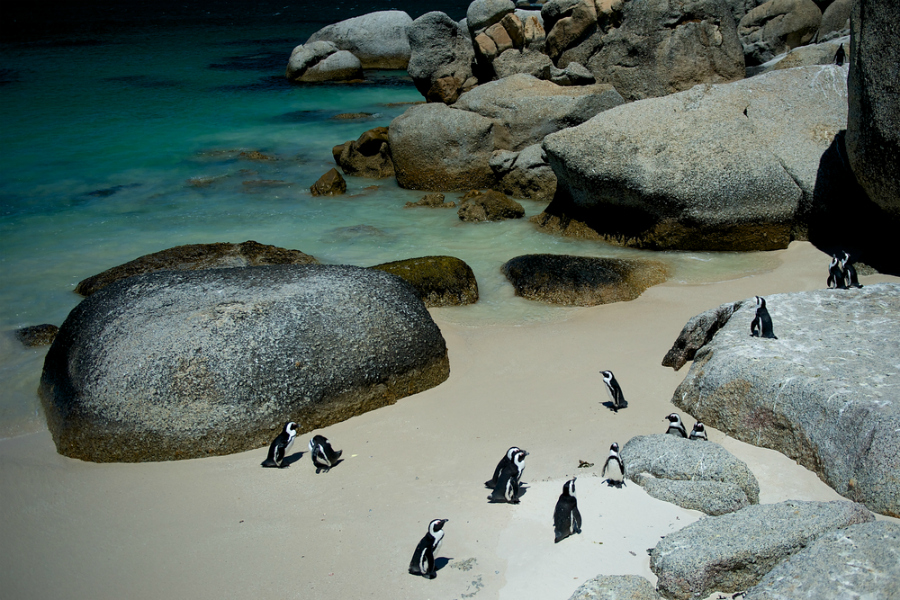 African "jackass" penguins at Boulders Beach, South Africa (Shutterstock)
Hear ye, hear ye, all in favor of changing our nickname, say aye

 Have you ever noticed that we don't have knees?
Not sure if I should swim to Antarctica, or stay here with the fam…

(C'mon, you know we had to put a baby penguin in this slideshow somewhere)

Bob, have you ever seen such a beautiful sunset? Life is sweet.

Last one to the boulder is a rotten egg!

Ain't no party like a Boulders Beach party, 'cause a Boulders Beach party don't stop

I always feel like…somebody's watching meeee (from that rock behind me, in fact)

Early-morning penguin yoga class

I waited for you…
Related content on AFKTravel:
Struggle For Survival: The Story Behind The Penguins Of Boulders Beach
10 Things You Didn't Know About African Penguins
"Adopt" An Endangered Penguin At Betty's Bay, South Africa