Boutique hotels are hot right now, and Durban's got some of the best in South Africa. Scattered among the leafier lanes and suburbs of the city, these 10 hotels offer intimacy, service and and style that you just can't get with a larger, more impersonal place. So take a look and consider one of these lovely boutique hotels in Durban on your next visit to the sunshine city.
1. St. James on Venice
The St. James inhabits a house which was built by a wealthy merchant in 1892, and still retains the Victorian charm of that era. Comprising just 15 rooms on two floors and a restaurant, the atmosphere is intimate, and the service personal and warm. Each room has a different design scheme, but they all could be classified as "modern minimalist Victorian." Besides the lovely rooms, the hotel's other big draw is the onsite restaurant, which is quite well-known for its high tea, as well as its upscale dinner and lunch offerings.
2. Audacia Manor
Owned by African Pride hotels (Protea's premium luxury brand), Audacia is a lovely, elegant boutique hotel set in a restored Arts-and-Crafts-style hillside manor house that dates back to 1928. It's got just 10 spacious rooms; six in the main house and four in the coach house by pool. Rooms have four-poster beds, balconies, and little extras like full-length mirrors, and bidets in the bathrooms. Downstairs on the main level of the house is restaurant Eleven, which offers immaculately presented and incredibly delicious gourmet fare. Staff are unfailingly helpful and polite, and know your name before you even arrive. This intimate, top-notch hotel has rightfully been rated one of the best in Durban.
3. Oyster Box
The Oyster Box combines five-star luxury with fabulous views from its infinity pool and a classic-meets-modern vibe. There are 86 posh rooms and suites, most of which face the Indian Ocean and include Wi-Fi, satellite TV, plush linens and modern bathrooms. You can also opt for a villa and have your very own plunge pool experience. The onsite restaurants and bars make it possible to never leave the grounds – head to Ocean Terrace for authentic Indian, the Grill Room on weekends for a nostalgic dinner dance experience, or the Lighthouse Bar to mingle with Durban's socialites and celebrities.
4. The Benjamin
This popular boutique property in a historic building on Florida Road (epicenter of Durban's dining and nightlife scene) features colonial country-style rooms (think lots of drapes and floral) around a manicured and green courtyard area that also houses the swimming pool. There is free Wi-Fi and parking on site and the hotel is in the Berea neighborhood, just a 10-minute drive from the beach. It's a lovely escape from the clutter of downtown.
5. The Concierge Boutique Bungalows
For a different kind of sleeping experience, hit up Durban's only design hotel, which offers 12 rooms in four pods and has a mid century modern vibe. All are decorated with a mix of wood, stone and glass and have an ultra-modern-meets-country vibe. Sleeping quarters can feel a little tight, but the emphasis here is on shape and texture rather than square footage (all come with free Wi-Fi and perks like iPhone docking stations). The glass walled Freedom Café is where to head for gourmet meals. This boutique hotel is a great deal as well.
6. Endless Horizons
Situated in a swank part of Durban North, Endless Horizons is a multi-award-winning hotel that'll knock your socks off. Two symmetric koi ponds at the hotel's entrance capture the tranquility of the place. The Asian-influenced decor extends to the 10 serene Zen-like bedrooms, and the infinity pool deck offers spectacular views of the ocean and coast. Business travelers are also catered to with ergonomically designed chairs and free wi-fi throughout, but this is really a place for romance — children are only allowed by special arrangement.
7. eMakhosini
Formerly home to the French Consulate, this stately building that houses eMakhosini (which translates to "the place of the kings") blends colonial and traditional Zulu decor, and has a unique design which encompasses private, airy balconies and hidden enclaves. If you're a newlywed, book the Honeymoon Suite, which has a Jacuzzi tub ensuite. eMakhosini's nearby sister hotel, eMakhosini on East, offers a similar but lower-cost experience.
8. Quarters Hotel
This gracious Victorian hotel in Florida Road has been fully restored to its turn-of-the-century glory and offers 24 charming, elegant rooms of various sizes. It is home to the award-winning restaurant The Brasserie, but is also within walking distance of Durban's bustling restaurant district, and only five minutes from the International Convention Centre.
9. Marmalade
This quirky yet stylish hotel in Durban North offers eight rooms and one opulent suite, all named after different flavors of marmalade. All rooms have deeply comfortable queen- or king-size beds and minibars with free goodies. The sunny dining area, which overlooks the pool, offers wholesome homemade food made from fresh, locally sourced ingredients — and of course, a variety of marmalades.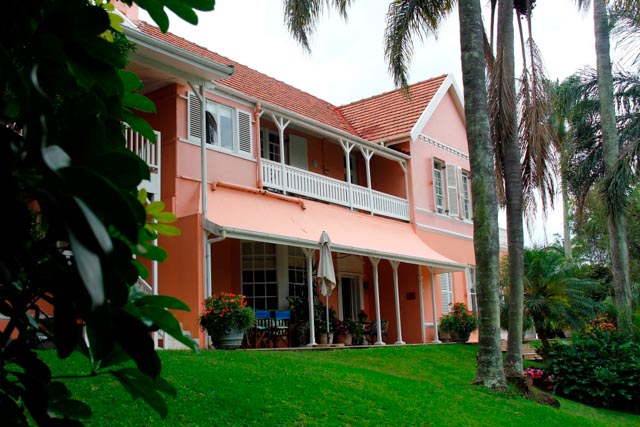 10. Essenwood House
The 5-star guesthouse is set in a magnificent garden with mature trees, many birds and even monkeys, so you are surrounded by the sounds of nature. Antique furniture, original art, bouquets of flowers, and oriental rugs add colorful focal points throughout and lend a graceful air to the interior. Adding to the personality of Essenwood are the two long-haired dachshunds­­ Lucy and Bella. The six rooms vary in size from cozy and quiet, to sea-facing with an enormous carpeted bathroom and balcony. The pool area offers tremendous views over Durban and out to the ocean.