Twenty-odd years ago the words "business traveller" and "Addis Ababa" didn't often get uttered in the same sentence. Today that's all changed. Nobody seems to have told the Ethiopian economy that there's a world economic crisis, because Ethiopia is booming. In fact, this country in northeastern Africa has one of the world's fastest-growing economies, and over the past decade it has been expanding at an annual average rate of 10.9%. While Addis still lags behind neighbouring Kenya's capital, Nairobi, as the premier East African business hub, it's often described as both the "political capital" of Africa thanks to it being the home base of the UN Economic Commission for Africa and the African Union, as well as the "development capital" of the continent.
What this all means is that in the space of 20 years Addis has gone from forgotten backwater — where a business traveller could easily have found themselves taking half a day to make a simple five-minute international phone call — to a city with a strong and ever-growing infrastructure built with the business traveller in mind.
Accommodation
So when the business traveller arrives in town, where should he or she stay?
Sheraton Hotel: Part of Starwoods The Luxury Collection, the Sheraton, the The Grand Dame of Addis hotels, is hands down the best business hotel in Ethiopia. Perhaps describing it as a mere business hotel is unfair, seeing how that tag can conjure an image of an efficient and comfortable but rather bland chain hotel — and that's something the Sheraton certainly isn't. This grand and opulent palace-like building is set in huge, landscaped grounds and has a beautiful swimming pool complex which gives the effect of staying in a very upmarket resort rather than a business hotel. The standard rooms, which measure 31sq metres, are stately and although we think they would have stood out more if they'd been a little more daring when it came to interior design, they do have everything a business traveller requires. If a little more space is required then a range of suites and private villas are available. The top end villas cost well over US$10,000 a night so if you've plumped for one of these you'd better hope your business trip is a big success!
Maybe more than the rooms it's the hotel's other services that make the Sheraton stand out. As well as the swimming pool complex there's an impressive eleven in-house restaurants and bars including the renowned Shaheen and Stagioni restaurants, which are, respectively, about the best Indian and Italian restaurants in Addis. Another nice touch is the in-house art gallery showcasing young local talent. A gym and health centre is currently under construction.
More business-orientated facilities include mobile phone rental service (very useful in a country where foreign mobile phones can be temperamental to use at best – actually so are local mobile phones!) and a conference room hung in chandeliers and with marble floors which at 1500sq metres is the largest conference room in the country. If you're meeting or conference is a little more intimate than that then the hotel has a choice of eight other conference rooms of varying sizes.
Perhaps the only real drawback of the Sheraton is that guests have to pay extra for in-room internet.
Taitu Street; Tel: 25111 517171
Radisson Blu: Style-wise the Radisson Blu, which is one of the newer top-flight hotels in Addis, is very different to the Sheraton. At this young upstart the emphasis is on brighter colours and a younger and trendier look – at least in the common areas. The rooms themselves are an immaculately colour-coordinated mix of browns and blues, but sadly they lack any kind of Africana flavour.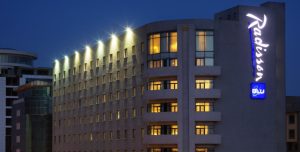 Facilities include the Restaurant Verres en Vers, which is a French-style brasserie and there's also a relaxed bar and cocktail lounge. If more relaxation is required there's a very professional spa with four treatment rooms, a steam room and trained masseurs.
There are nine conference and meeting rooms in the hotel which range in size from a diminutive 28sq metres to an impressively daunting 280sq metres with seating space for nearly two hundred people. All conference and meeting rooms have natural daylight, air-conditioning (although thanks to the high altitude of Addis this is rarely needed) and wi-fi.
And talking of that wi-fi, at the Radisson Blu in-room wi-fi is free, which gives it one over on the Sheraton. However, the internet is also a lot more moody, and while there are times when it works like a dream, there are other times when it works like a bad dream.
Kazanchis Business District Kirkos Subcity Kebele, Tel: 11515 76 00
Stay Easy: Of course not all business people are on Sheraton suite-style expense accounts, so if you're a business person on a budget our suggestion is the Stay Easy hotel. Situated a short way east of the city centre close to an area flush with local restaurants and bars (although currently there are a number of major construction projects taking place in the immediate vicinity of the hotel which can leave you thinking that you're sleeping in a building site!), this hotel follows the classic pattern of budget business chain hotels (although this isn't part of  chain) the world over in offering dependable service, low prices and squeaky clean rooms with little fuss but plenty of colour. While there are no conference facilities there is free wi-fi.
Off Haile Gebreselassie Rd; Tel: 0116 616688
Things To Know
One of the first things to strike most business visitors to Addis is how poor the communications system is in Ethiopia. The mobile phone and internet industry lags far behind that of almost all Ethiopia's neighbours (with the notable exception of Eritrea). This is due to all telecommunications being run by the government, which, for security reasons, is very reluctant to allow other operators into the market.
Addis is currently in the grip of a major infrastructure overhaul with new roads being laid, old ones torn up, and Africa's first light railway being built. All this means that large parts of the city are currently little more than giant construction sites. All this building work and road closures mean you should expect severe traffic chaos throughout the city for a few years to come.