Latitude 31 is an oasis located in a non-touristy part of Arset Ben Chebli — about a 20 minute walk meandering through streets from Djemaa El Fna. It's a trek to get there through the winding roads filled with mopeds, small cars and the smell of diesel. But the contrast of the walk juxtaposed to the feeling you get when entering the doors of the restaurant is worth it.
Once you enter from the busy streets, you'll be transported into an outdoor atmosphere full of orange trees reminiscent of what you'd expect in the Mediterranean villa. The gorgeous setting is walled off, and you'd never know the medina was so close once you take your seat. Green and orange themed walls looked great as the sun went down and seemed to match the the colors of the orange trees.
We were the first customers to be seated on a Thursday night, but it had more or less filled out in the next 20 minutes after getting there. Any later arrival and we would have been waiting for a seat.
For appetizers, we were served small Moroccan pastries with cream cheese and a delicious strawberry puree in a small glass. The puree was super sweet and the pastries were warm, flaky and gooey. For our meals, we ordered stuffed chicken thighs and a seafood tagine.
Given the taste of the pastries, we knew the food was probably going to be good, but we didn't know it was going to be a work of art.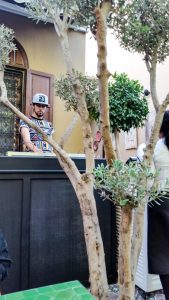 The seafood tagine had a beautiful plating with large pieces of fish, shrimp that had that pop when you bite into them, perfectly cooked calamari, and an assortment of fresh vegetables. It also came topped with red, orange and purple flowers, along with a plate of piping hot couscous on the side. The stuffed chicken thighs were also artistically plated with a pumpkin sauce design, potatoes, carrots, radishes and pearl onions. It was super earthy and loaded with complex spices such as whole peppercorns and cumin seeds. We passed on the dessert as we had to catch the last bus back to our hotel and had already eaten all the pastries anyway.
Service was prompt and friendly the entire time. Anytime we took a sip of our drinks, they would come out and refill the water on the table for us, insisting that we didn't do it ourselves. Even the manager came out and asked how our meal was. As our meal was ending, a DJ came out to start warming up as at night the restaurant gets much more lively.
Overall it's one of the best dining experiences I've had in Marrakech, and if you can find your way to this hidden oasis, I highly recommended it.
More from AFKTravel:
Shopping In Marrakech: Why It's A Bit Like Vegas
15 Mesmerizing Photos Of Marrakech
A Taste of Morocco: Learning To Cook In Marrakech