Velvet Lounge is a cocktail lounge-restaurant in Florida Road in the Windermere suburb of Durban serving mostly Indian cuisine. The hot capital of the KwaZulu-Natal province in South Africa, Durban has long been the home of immigrants from India and Asia, who brought with them come the spices, colors and customs of flavorful food. Durban cuisine is famous for its curries, which are redder, hotter, and spicier than the Malay curries in Cape Town, and different to traditional Indian curries.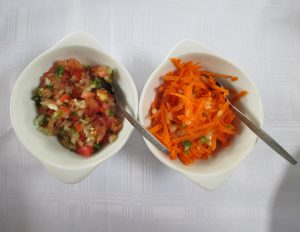 Although the name might sound slightly pornographic, the lounge area's interior decorating style might make think you staggered onto a movie set. Think enormous white and red fake-leather sofas studded with huge fake diamonds and futuristic glass coffee tables. Fortunately, the dining room is elegant with antique wooden tables, simple white serviettes and glassware. Sit and stay for lunch, rather than supper when the place is crowded with locals and after-work cocktails.
The menu offers mostly Indian cuisine, but options such as fillet (R140 – $11,50), marinated lamb chops R120 – $10) and Cajun chicken fillet (R110 – $9) cater for more Western palates. Desserts are the usual suspects – ice cream, crème brûlée and chocolate mousse, all priced around R40 – $3.30. We opted for what an Indian restaurant does best – Indian food. Our choices were a vegetarian breyani and butter chicken, both served with rice and sambals. Whoever cooked took their time, but it was worth the wait.  The butter chicken was indeed redder and spicier than Cape Town's Malay style. The meat was meltingly soft and the sauce creamy and thick.  The vegetable breyani was surprisingly moist and colourful. Red cabbage, broccoli, carrots, potato and courgettes teamed up to make this one of the most flavourful breyanis I have tasted.  The sambals were aggressive – tomato, onion and red chillies (a perfect accompaniment with the butter chicken) and a refreshing carrot salad with chilli. We concluded the meal with a decent cappuccino.
Recommended for relaxed lunch time dining, Velvet Lounge is well-priced and their Indian dishes are worth the friendly service but rather long wait.