If you're planning a trip to the Western Cape and would like to go whale watching, now is the perfect time to do so. August is calf season, but whales can be spotted until November. Every year, southern right and humpback whales migrate from Antarctica to calve in South Africa's sheltered bays. The mammals pass through the area running from Doringbaai, south of Cape Town, to the Storms River Mouth in Tsitsikamma, and if you're lucky enough, you can spot these magnificent creatures as close as 50 meters from the shore.
The small town of Hermanus in Walker Bay, located 2 hours out of Cape Town, is the self-proclaimed whale watching capital of the world. Considering its size, it certainly packs a punch when it comes to luxury accommodation, with some of the Western's Cape's finest five star hotels located in this area. Here are the best luxury hotels to use as a base when whale watching.
Grootbos
Drive 30 minutes out of Hermanus, and you'll find yourself at the eco paradise that is Grootbos Private Nature Reserve, a fantastic option if you want to combine your whale watching adventure with other activities, like horse riding and cave exploring- both included in the room rate.
The word "Grootbos" translates to Big Forest in Afrikaans, and that it certainly is. The fynbos plains (a distinctive type of shrub like vegetation only found on the southern tip of Africa) stretch on for miles, dotted with over 700 various flower species.
Accommodation is split into the Garden Lodge, designed for families, and the Forest Lodge, for a more intimate experience. The former is made up of 11 freestanding suites, each with its own private wooden deck. Kids will love the outdoor play area, with rabbits and ducks, or can take their pick from one of the many educational activities on offer.
I stayed in the Forest Lodge, which is designed to blend into the environment, and is the perfect mix of luxurious and natural. My suite came complete with a fireplace, separate lounge area and oversized bathtub. All meals are included in the rate and activities are coordinated by the lodge, so there's no need to even think about driving while on your vacation.
I booked a whale watching boat trip with Dyer Island Cruises through the Grootbos concierge, which set me back R800. My driver was waiting at reception at 5am, and along with a few other guests, we bundled up and headed to the Kleinbaai harbour near Gansbaai. First, we passed Geyser Rock, home to a 60,000 strong Cape fur seal colony. Next, it was on to the whales. Sightings are guaranteed from August to November, and it wasn't long before we saw a pod of whales in the distance. We inched closer, and soon the whales were swimming underneath the boat, completely unperturbed by us. The sun was rising at this time, making for spectacular photos. The ride back was a little choppy, so I would recommend seasickness medication. That didn't take away from the experience being one of my most memorable travel adventures- the sheer size of the animals was remarkable.
Birkenhead House
If you'd like a few more dining and leisure options during your stay, you might want to stay in Hermanus itself, which is famed for a lot more than just the whales. The town is filled with artisanal food producers, art galleries and quaint boutiques; it even has its own wine route.
Grotto beach, a 10 minute walk from the hotel, is the longest strip of white sand in Hermanus and has been awarded "Blue Flag Status," which indicates a high standard of cleanliness, environmental protection, full time lifeguards and security.
Right on the beach is the elegant Birkenhead House, where each room offers unique, contemporary décor enhanced by bold tons of red and blue. Most rooms have balconies, and if you pick a room with an ocean view, you can whale watch while still in your gown and slippers.
Land based whale watching is a great option for those who would like to see the whales in a more leisurely fashion. Hermanus' famed cliff path wraps along the coast, and is also known as the "whale walk," with the 12 kilometer stretch offering numerous well marked vantage points.
Recover from the walk at Birkenhead House's spa, which is a sanctuary in the true sense of the word. I'd recommend the Indian Head Massage, R450, which is the perfect way to release tension and stress.
The Marine
Part of the esteemed Relais & Chateaux group, The Marine is one of the bigger properties in Hermanus, with 40 individually decorated rooms and suites. The property has quite a history, dating back to the early 19th century, when it was originally a summer grazing area for livestock. Here, the drawcard is the food. The hotel is home to renowned chef, Peter Tempelhoff, who enchants guests with his innovative approach to food. The Pavilion restaurant has a distinctive regional identity- with menu items paired with locally produced wines.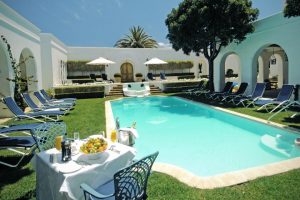 If you're up for something a little more adventurous than land based whale watching, the hotel can arrange a kayaking tour with Walker Bay Adventures, where you'll paddle along for 2 hours and encounter whales (if in season), or even dolphins, penguins, seals and birdlife. You don't need to have any prior experience kayaking- your guide will show you the ropes, and once you're on the kayak, you'll feel stable and safe.
By law, you won't be allowed closer than within 300 meters of the whales, but with the larger of the animals growing up to 18 meters long, it's probably wise to keep your distance!
Cool off from your day at sea at the hotel's Sun Lounge, an ideal spot to enjoy sundowners overlooking Walker Bay, while scanning the waters for a hump or a tail.