As a big fan of sushi, I was eager to see what Johannesburg had to offer in that department when I moved here last September. Since then I've found that while Joburg is not a world-class sushi city, it's got some offerings that are not too shabby — especially considering that the city is nowhere near an ocean. Here are some of my favorite places, so far.
Koi: This upscale chain has three branches in Joburg: two in Sandton and Rosebank. All are equally fantastic. I hesitate to use the word "perfect" in relation to restaurants, since it's a cliché (and perfection is impossible), but Koi comes pretty close. It starts with the innovative Japanese-themed minimalist décor, and extends to the atmosphere, which manages to be calm but buzzy at the same time. Then it continues with the food and service. The dim sum is my favorite appetizer. The immaculately-formed dumplings come steaming hot in elegant bamboo containers and have just the right combination of tenderness and flavor — they literally melt in your mouth. The sushi is superbly prepared as well: I love the combo platters, which include the ever-popular salmon roses (a twist of salmon around rice, topped with roe and mayo), a four-piece tiger roll, a four-piece rainbow roll, and two pieces of salmon nigiri. The fish is fresh, tasty, perfectly seasoned, beautifully presented, and is delivered quickly and cheerfully.
YuMe Sushi: With three locations in Joburg, YuMe feels like one of my favorite haunts from back in LA or San Fran. Modeled after a contemporary Tokyo sushi bar, the glaringly bright and colorful interior is matched by the vivid menu, which is filled with dozens of sashimi options, innovative sushi rolls, dim sum, noodles, and fashion sandwiches. You can watch the sushi chefs if you sit at the bar, and some items are available to take directly off the funky conveyor belt. These tend to be the popular small bites such as salmon roses, tempura salmon skins, edamame and some dessert rolls. But the real magic happens in the back of the house, with the items you can order a la carte off the menu. For example I picked the delicious Hong Kong "pears," which are minaret-shaped dumplings stuffed with curry and potatoes. I am also a big fan of the salmon grenades, which are salmon roses (rolled salmon with a dab of mayo) topped with spicy salmon, teriyaki sauce, and tempura flakes. But there are also numerous non-sushi mains to choose from such as teriyaki chicken, tempura prawns, ahi tuna "burgers," and the signature noodle bowls. You can either get the ramen or crispy beef noodles, or you can design your own noodle dish: pick a noodle type, some ingredients (meat, seafood vegetables) and the type of sauce you want.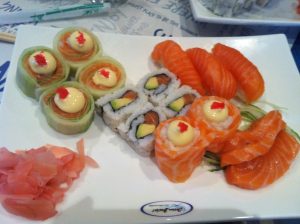 Yamato: If you want a "classic" Japanese sushi experience, Yamato is the place to go. It's not particularly hip or elegant, with just one tiny square dining room with bare white walls and about 15 closely-spaced tables (they seem to be aiming for a Japanese aesthetic of "clean and minimal"). The extensive menu offers page upon page of sushi rolls (including inside-out rolls, hand rolls, fashion sandwiches, combo plates and sushi boxes), plus cooked dishes, hot pot, tempura, fried rice, and hard-to-find dishes such as zaru soba noodles. For those not overly familiar with Japanese food, the menu helpfully offers photos of each dish. The sushi is tasty and beautifully presented, and you can watch the chef prepare it at the sushi bar. Prices are a bit steep — over R300 for one person — but it is located in affluent Illovo, and I suppose patrons pay to have an "authentic" Japanese experience (including loads of Japanese tourists, who flock here while they are on holiday in Joburg).
Blackanese: Located in Joburg's gentrifying Maboneng precinct, Blackanese offers an "African-Asian" experience, as its name implies. Menu items fuse Japanese and South African influences, in dishes like the California roll with biltong, and the prawn braai with Thai rice. But it's not just the food that I like about this place; it's got a racially diverse bohemian crowd, tasty cocktails, fine wine and a chic atmosphere. It's not the perfect restaurant — the service is uneven, it's fraying around the edges, and the prices can be steep, but I like the idea that I am supporting a local enterprise rather than a corporate-owned establishment. And the all-you-can-eat platters are not bad either!