The name says it all really. The Test Kitchen.
For owner/chef Luke Dale-Roberts likes nothing more than to push the boundaries of fine dining; reducing flavours to their essence, teasing new textures from traditional ingredients and challenging local palates at every turn.
With many years spent in Asia, Luke manages to balance both richness and acidity on every plate: with the line fish, a spring onion and fennel salad squares off against the langoustine velouté; with duck liver chawanmushi the morel-glazed sweetbreads dance with a foam of burnt thyme; while miso-cured egg yolk is a perfect contrast to smoked fillet with gorgonzola catalan.
Lunches are offered a la carte, while dinner set menus range from simple three-course affairs to the spectacular nine-course Gourmand – 11 courses, in fact, with the amuse bouche and friandises – that is available with wines paired to each course. Happily, and unusually for many fine dining restaurants, the vegetarian menu is as exciting as the carnivorous.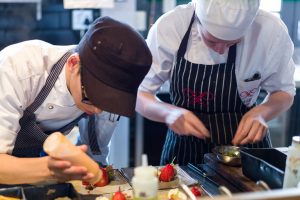 An army of chefs toil in the open kitchen, with seats at the counter ideal for solo diners or couples wanting sight of the action. In the restaurant proper, efficient yet knowledgeable service is a hallmark of what continues to prove itself as the most exciting restaurant in Cape Town. The modern sparse décor and bespoke crockery concentrates all the attention on the food, while a focused wine list includes both trend-setting boutique wineries and classic Cape estates.
With outstanding innovative cuisine The Test Kitchen has become a firm fixture on the S. Pellegrino list of the world's best restaurants, thanks to the man Heston Blumenthal of Britain's Michelin-starred The Fat Duck calls "a truly fantastic chef". And judging by the waiting list for a table, it seems that hungry Capetonians and tourists would agree.