If you don't mind that nothing matches and you can appreciate a little absurdity, you'll love Villa Simonne, a luxury Houghton guest house whose owner occupies the establishment.
With 14 rooms — each designed differently — and a staff of 16, you can expect fabulous service at this place. Just don't dare call it a hotel in the presence of its creator, Nestor Kelaiditis.
Nestor has lived in the house for 37 years, turning the single-family home built in 1939, into a guest house in memory of his wife, Simonne, for whom it is named. He and Simonne raised their children there. She died 13 years ago but her presence is everywhere.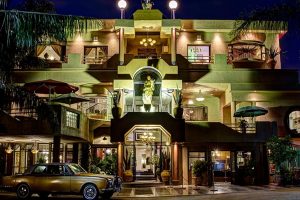 She's under the James Dean photo in the bar, on the mantel in the reception area, and other places. You'll see her when you least expect her. It's as if she's watching what's happening at her home with interest.
Simonne was Nestor's inspiration in his over-the-top guest lodge. A self-described perfectionist, Nestor took seven years to complete the transformation of his and Simonne's home into something paying guests can now shake their heads and marvel at.
When Simonne died, Nestor went into a deep depression. Turning their home from a 620-square-meter (6600-square-feet) house into a 2,500-square-meter (23,000-square-feet) guest lodge helped bring him out of his depression, he said. He has poured a lifetime of love and passion into the guest house.
And money.
Around the house and garden there are 11 common areas for socializing and entertainment. In many of them, you'll find solid concrete statues of gods and goddesses such as Venus, Bacchus and Neptune, that had to be brought in by cranes. There's a boma — a sunken fire pit and barbecue grill — in the garden.
Inside the house are works in etched glass — a real feast for someone who loves bright shiny objects and is easily distracted.
Some parts of the hotel are just over the top, starting with the gold, two-seater, 1972 Rolls Royce parked by the front entrance. You'll see it when you arrive. Nestor also has a 100-year-old snooker table, an old gambling table and barber's chair that he keeps in his Wild West Saloon.
The pool area is decorated with large pots from Burma, and has a full outside kitchen. Nestor conducts day and night tours of the property, and he's experimenting with exterior lights for the night tours.
I was given a spacious penthouse suite, the Olympia Room, on the third floor of the three-story building. It had ancient Greek-style statues and oversized murals in the living room and came with two balconies — one overlooking the garden and another overlooking the entrance. The suite came with a separate bedroom, queen-sized bed and garden views. I sat on the balcony and watched Speedy, Dotty and Elsa, the three giant Villa Simonne tortoises as they foraged in the garden. My suite also had access to another living area reserved for guests in the penthouse suites.
By comparison, my bathroom was surprisingly snug, but the shampoo and skin care products had redeeming qualities — rooibos and tea tree extract.
I watched as Nestor curated his guest lodge from a big, comfy leather chair in The Gatsby Night Club. "There's a light out over there," he told a staffer, pointing in the general direction of an area lit up by what looked like 10,000 light bulbs.
Nestor treated me to dinner cooked by the Villa Simonne chef that was beautifully presented and delicious. Only lodge guests can enjoy a meal here, and they are in for a treat. Breakfast was included.
The work isn't done yet on Villa Simonne. Nestor still plans to add a jazz cafe where guests can enjoy jazz and blues.  Enjoy these photos courtesy of Villa Simonne.