Kenya's reputation as one of the top nature destinations in the world is well-deserved: it's got a mind-blowing array of lakes, mountains, islands and wilderness areas that are almost too stunning to be believed. Here are some of the world-famous — and lesser known — natural attractions in Kenya that you need to add to your bucket list NOW.
1. Masai Mara National Reserve
Visit this iconic reserve in summer to see wildebeest as they migrate during late summer months. Big cats such as lions and leopards also call the area home. Campsites as well as lodges are available for long terms stays.
2. Lake Nakuru National Park
If you want to see wildlife at a lake, Nakuru is the place to go. Famous for thousands upon thousands of flamingos that congregate in the shallow areas of the lake, Nakuru also has plenty of other bird species, as well as warthogs, baboons, giraffes, and re-introduced rhinos (both white and black). Located in central Kenya, this national park is close to many others in the region.
3. Ngong Hills
These sweeping peaks in the Great Rift Valley offer great opportunities for hiking and walking along the top. Located not far from Nairobi, the hills appeared in the movie "Out of Africa," and the grave of Denys Finch Hatton, one of the real-life characters depicted in the film, lies on the eastern slopes.
4. Samburu National Reserve
Birds, crocodiles and warthogs are just some of the animals that live on this large, centrally located reserve. It features a huge diversity of landscapes as well, ranging from broad forests to the Ewaso Ng'iro River.
5. Mombasa Marine National Park And Reserve
The park and reserve covers thousands of acres of ocean. You can see vivid aquatic life while snorkeling or diving among the coral reefs. Expect to see crabs, star fish and a wide variety of fish during each experience.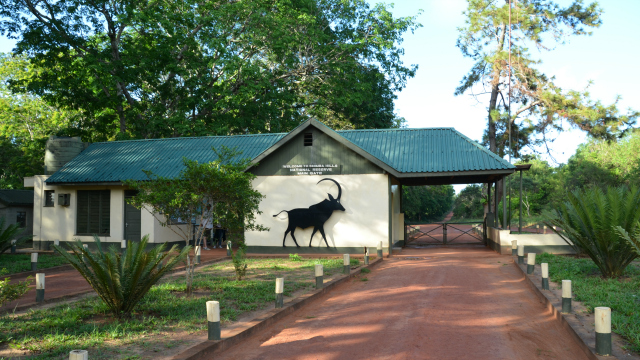 Wikimedia Commons
6. Shimba Hills National Reserve
Shimba (located 45km southwest of Mombasa) is one of the most important places in Kenya for plant biodiversity – over 50% of the 159 rare plants in the country are found here, including some endangered species of cycad and orchids. It is also a nationally important site for birds and butterflies, and over 700 elephants live here, plus the sable antelope.
7. Menengai Crater
An extinct volcano, Menengai crater is indeed one of the most interesting places to visit in the Rift Valley. There are hiking, trekking, camping and picnicking options, and caves that can also be explored — but they tend to be frequented by those on religious pilgrimages, so be respectful of them.
8. Manda Island
This almost-island next to Lamu is a great place for a quiet beach getaway. You can stay overnight in one of the luxury resorts, or enjoy a day trip to visit the beaches or the prehistoric ruins at Takwa.
9. Lake Naivasha
Naivasha's name comes from the local Maasai name 'Nai'posha' meaning rough water due to the sudden onset of fierce storms that can plague it. One of Kenya's Great Rift Valley lakes, over 400 species of birds have been observed here. Hippos thrive and the lake can be easily visited from Nairobi in an hour or two and is a great way to get out of the big city for a weekend.
10. Lake Turkana
A UNESCO World Heritage Site, Lake Turkana is in Kenya's seldom-visited extreme north on the border with Ethiopia. The world's largest desert and alkaline lake, the landscape around Turkana is rocky volcanic desert. With plenty of fish, birds, mammals, and formerly, the largest concentration of Nile crocodiles, the area is best explored with a guide and four wheel drive vehicle. The indigenous peoples of northern Kenya who inhabit the area are no less fascinating as well.
11. Mwaluganje Elephant Sanctuary
This sanctuary is an ideal place to get an up-close look at Kenya's most iconic animal. Located near Shimba Hills, the sanctuary is eco-friendly and benefits local communities. Take time to view the zebra, leopards and cycads (bread palms) that also live onsite.
12. Rusinga Island
This peaceful island in Lake Victoria features fossil-laden prehistoric sites, blissful beaches, and pristine scenery. Rent a mountain bike and wander around — you'll never want to leave.
13. Arabuko Sokoke National Reserve
This protected reserve, which is located 100km north of Mombasa, is home to almost 300 species of birds including the Sokoke scops Owl. It's also known for endemic species such as the golden-rumped elephant shrew, the bushy-tailed mongoose and the Ader's duiker. Go for a quiet walk or cycle through the reserve to get the full scope of it. Camping sites are available for overnight stays.
14. Tsavo West National Park
Tsavo West National Park is know for its magnificent scenery, natural springs, rich and varied wildlife, rhino reserve, and rock climbing  opportunities. Take a guided tour in order to see the best of the park, and wildlife such as the eastern black rhino, cape buffalo, African bush elephant, African leopard, Masai lion, bushbaby, hippo, hartebeest, lesser kudu and Masai giraffe.
15. Nairobi National Park
This national park is one of the easiest to visit if you're in Nairobi — it's directly adjacent to the city! Giraffes, lions and cheetahs roam here, and The David Sheldrick Wildlife Trust elephant orphanage is located onsite. Guests can see elephant calves that have been rescued from poachers, and make donations to help with expenses.