Synonymous with whale-watching and shark-cage diving, the Overberg region of the Western Cape escapes is often overlooked as one of the most beautiful destinations in South Africa. The region is not only blessed with diverse landscapes, wild beaches and nature reserves — it also boasts many luxurious escapes, five-star hotels, spas, boutiques, award-winning restaurants and wineries.
Stay and Play
If you're in Cape Town during whale season (from June through to September), you needn't limit yourself to Hermanus alone. Some of the best land-based whale watching can be found at De Kelders and De Hoop Nature Reserve. Guest houses such as Whalesong Lodge and Cliff Lodge offer more intimate stays, coupled with opulence and luxury. Walker Bay offers visitors the chance to experience the "Marine Big 5:" Great White sharks, Cape fur seals, dolphins, penguins and of course, whales. Southern right whales migrate from the Antarctic during June to calve and mate. Calving takes place in August and September; something to be ticked off the bucket list, which can be witnessed from the comfort of these outstanding guest houses.
Hermanus has been recognized by the WWF (World Wildlife Fund) as one of the 12 best whale watching destinations in the world and has no shortage of impressive accommodation. The five-star Arabella Hotel and Spa is only a 20 minute drive from Hermanus; Harbour House on the beach front boasts the best location in Hermanus, rivalled only by The Marine; a classically elegant hotel positioned above the ocean offering magnificent views.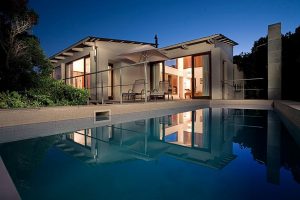 Only 20 minutes further than Hermanus, the small town of Stanford offers visitors unrivalled tranquillity at Mosaic Private Sanctuary, on the lagoon. Mosaic is a destination, rather than just accommodation, offering exceptional views, adventurous activities, sumptuous cuisine and an in-house spa. Internationally renowned for exceptional lavishness, unforgettable staff, warmth and generosity, five-star Grootbos Nature Reserve stands alone in its class in the Overberg region. The playground of famous Hollywood stars, Grootbos has to be experienced to be believed. It offers guests an abundance of activities, including flower safaris; horse-riding; air safaris; boating; whale-watching and shark cage diving, while therapists are on standby at the Forest Spa to help ease any aching muscles after a full day. With 21 chefs creating unforgettable cuisine 24 hours a day, accommodation boasting every luxury you could possibly desire, ocean views and world-class service, there's nothing not to love about Grootbos.
Swellendam may be en-route to the Garden Route, but is far more than a pit stop. A town steeped in history, with a favourable climate surrounded by mountains and a nature reserve, Swellendam is home to many five-star establishments. Schoone Oordt is a 5 star country hotel with an unpretentious feel, whilst no luxury is spared to ensure a memorable stay. Think legendary three-course breakfasts comprised of flapjacks and berries and cream preceding eggs Benedict, culminating in poached pears and crème fraiche. The cuisine served at their restaurant, The Conservatory, is the stuff of dreams. Next to Hermanus, Swellendam boasts the most five-star establishments in the Overberg, including De Kloof Luxury Estate; Jan Harmsgat Country House; Rothman Manor and The Hideaway.
Wine, Dine and Unwind
The Overberg is one of the most impressive wine regions in South Africa. One could spend weeks exploring the Overberg wine route alone, spanning the area between Elgin Valley and Cape Agulhas, the southernmost tip of Africa. The Elgin Valley Wine Route, with its 16 wine farms, marks the start of the wine route through the Overberg. Some of the best wines in South Africa are produced in this valley, which includes Paul Cluver, South Hill Vineyards, Thelema, Tokara, and William Everson wineries. The Hemel and Aarde Valley should also be on every visitor to South Africa's must-visit list, due to its extreme natural beauty (and plethora of wineries). Notable stops along the wine route include Creation, La Vierge, Ell, Sumaridge, and Hamilton Russell. Swellendam also has its own wine route, which should be appreciated over several days. My favourite stop along this route is Van Loveren, due to its sophistication and all-round appeal.
The list of notable restaurants in the Overberg will have me rambling on all day, so I will only list the ones I have dined at. South Hill in Elgin is currently my favourite lunch venue in 'apple country' due to a carefully curated menu comprising of perfectly prepared cuisine in generous portions. Ell in the Hemel  and Aarde Valley gets my vote for unforgettable views and ethically sourced ingredients. Madre's Kitchen, Stanford Hills and Havercrofts in Stanford require booking ahead for very good reason, while multi award-winning Marianas is on every foodie's watchlist. Springfontein in Stanford stands alone as the only restaurant in South Africa headed up by a Michelin star chef, while one of the best culinary experiences of my life was enjoyed at Grootbos. Stanford is even home to the only authentic Italian gelato shop in the Overberg, Don Gelato, which produces the most outstanding quality gelato you could possibly sample outside of Italy. La Sosta in Swellendam is booked weeks in advance and is rumoured to be one of the best restaurants in the region. I was impressed by most of the restaurants in this small town, which included De Companjie, De Vagebond, Tredici and The Conservatory at Schoone Oordt.
Not to be outdone by the Garden Route, the Overberg offers many options for those looking for a little serenity. A few notable spas include Agulhas Country Lodge, Armagh Country Lodge & Spa, Bloomestate, The Forest Spa at Grootbos Private Nature Reserve, the spa at The Marine, the spa at The Post House Hotel, and Rain Forest Day Spa. I've been fortunate enough to experience Rain during a weekend in Swellendam, where I enjoyed an hour-long massage. Therapists at Rain use only the signature natural Rain products during treatments, made from ingredients sourced from Africa. I would highly recommend treatments at Rain Forest Day Spa.
The Overberg is so much more than whales and Great White sharks. It is one of the most beautiful places on earth, offering visitors a truly memorable taste of South Africa. Once you've fallen in love with the Overberg, you'll find that there's no other cure than to return to it.