Here's my first tip: don't call it The Mount Nelson. Locals know this grande old dame of Cape Town as, simply, The Nellie.
And once you're on a first-name basis you'll soon realize why this imposing Edwardian-era hotel has been the abode of choice for celebrities and statesmen for over a century. Winston Churchill has slept here, as have Charlize Theron, George Bush Sr. and the Dalai Lama. So you'll be in good company.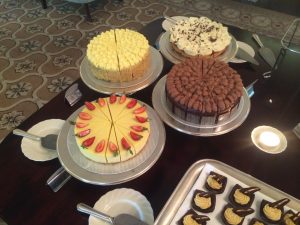 And it's no wonder The Nellie is so popular. From being the first hotel in the country to offer hot and cold running water in the rooms–that was back in 1899–to its legendary Afternoon Tea, this charming grande dame has always been on the cutting edge of gracious hospitality.
Rooms and suites are decorated in an elegantly understated style–no bright, brash colours, rather muted tones and gentle glamour–and regularly receive a discreet nip/tuck to keep them looking fresh. Set in terraced rows, the separate Garden Cottage Suites offer a little more privacy, but I prefer the main hotel for its sense of grandeur in its art-filled corridors. Rooms offer wonderful views of either Table Mountain or the manicured garden; a green lung in the heart of the city that brings savvy locals to the terrace of the stylish Planet Bar.
A few steps away you'll also find the acclaimed Planet Restaurant, where chef Rudi Liebenberg serves up award-winning modern South African cuisine. If your pleasures are less bacchanalian, the Librisa Spa is a sought-after sanctuary for tired travellers.
Not unlike the hotel itself: although just steps from the center of Cape Town, the Mount Nelson–I mean, The Nellie–is a delightful world apart from the bustling city streets outside.