Seafood may be king in Maputo, but when it comes to meat, Rodizio Real is the crown prince, according to a customer who was dining there when I went.
At a Brazilian rodizio, you pay a fixed price for an all-you-can-eat buffet but instead of getting up and serving yourself, the food is brought sizzling on skewers to your table by waiters with sharp knives who slice it right onto your plate.
Brazilians working for the Vale mining company in Northern Mozambique often come to Maputo on weekends and they eat here, said Oscar Luis, the restaurant manager. He has other customers who dine there every day.
A fellow diner "adopted" me to talk about what he said is his favorite restaurant in Maputo. My customer guide worked in IT as a subcontractor for USAID in Mozambique.
At his urging, I ordered caipirinha — a strong drink made with sugar cane alcohol and lime. It aids digestion and helps balance the heavy meat meal, he said. It is mandatory , he insisted.
Then the food started arriving: first veggies, including an excellent cabbage and garlic dish, and cassava and black beans. The black beans arrived with a bowl of dried, grated cassava and bacon. Luis said I should sprinkle this on the black beans.
My appetite whet, the much-anticipated meat began to arrive. Steak, fillet, ribs, rump steak, pork, and more.
A waiter set on my table an hourglass-shaped object painted green and red. He said I should place the red side up when I'd had enough.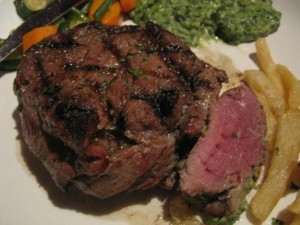 Finally, the parade ended with pineapple on a skewer, its edges singed black. The heat seemed to intensify the sweet-and-tart flavor of the pineapple and was the perfect ending to a meal so heavy in protein.
Rodizio Real uses charcoal to cook its meat, and that's what sets this restaurant apart from other local Brazilian steak houses, my customer guide said. "Charcoal versus flame grilled makes a huge difference," he said.
Most of the meat at Rodizio Real is from Swaziland, free range, and considered high quality, manager Luis said.
Dessert, if you still have room for it, is an irresistible-looking buffet of offerings you'd find in Portugal, including a beloved sugar-and-egg dessert.