Positioned on an island in a private concession, Duba Plains Camp is intimate and unfenced. Beneath tall jackalberry trees six Meru-style tents have a splendid view of the lagoon and floodplains beyond.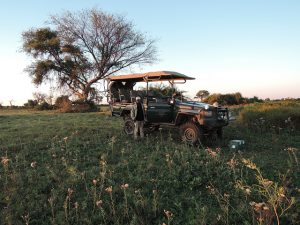 Although the camp has a rustic feel, with minimum impact on the ecology of the region, they are well appointed and elegant inside. Antique furniture of dark wood includes a sizeable bed canopied by a mosquito net, plus a desk. The Persian carpets add a touch of rich red. Bolsters throw a shade of purple. At the back of the tent the bathroom area has a shower. Outside, beneath the trees, is another shower with a sublime view and ample hot water.
Lunch is presented at a large communal table, which is imaginatively set. Food is beautifully presented. Dinner is at a table — set under thatch — with crystal wine glasses and elegant cutlery. Conversation is lively and includes tales of encounters with breeding herds of elephants, lion prides or stealthy leopards.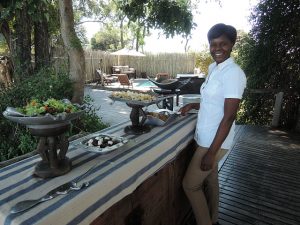 Don't be surprised to find exceptional gourmet dining. Pierre van Zyl — who lights up when he speaks about food and excellent wine — is a consummate chef. The wine list is impressive and includes Ernie Els Cabernet Sauvignon, which guests relish with their fillet steak. A crisp Iona Sauvignon Blanc will complement the grilled bream.
Prolific numbers of bird species inhabit the area, and Pel's fishing owls may silently glide over your head to rest on the branch of a tree. Red Lechwe jump through the water, creating sparkling spray. Rotund hippos crash through papyrus, past water lilies into open water. In the warmth of a sandbank, two-meter long water monitors bask. Don't miss the boat trip, where reflections of water lilies and reeds in the water at sunset, make for spectacular photographs.
The region is so remote it can only be reached by plane. The Mack Air flight from Maun allows you to gaze down at the vast terrain of this fascinating landscape.