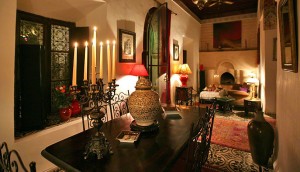 Eclectic is one way to describe Dar Mouassine. The cracked zellij tiles, worn Berber rugs, and obligatory antique lanterns are all present, but so are antique Indian side tables and contemporary French artwork, courtesy the worldly owner's personal predilections (it would be nice, however, if he decluttered just a bit — there's only so many times you can bump your head on a lantern or knock over a decorative tagine). The riad channels an old-world ambiance, which means some modern comforts in the six rooms may be foregone in favor of gorgeous original painted wooden doors and painstakingly restored centuries-old plasterwork; the elaborately embellished domed ceiling of the Curcuma suite (which even has its own private terrace enclave) is a sight to behold. A lazy breakfast on the courtyard is a great way to take it all in.
But for those who aren't satisfied with the vestiges of faded glory, there are more contemporary pleasures to be found here and there. A lovely little pool is secreted away in a hidden courtyard, surrounded by low blue-leather banquettes, perfect for a late-afternoon loll; a TV lounge is stocked with a slew of magazines, books, and board games, so you can stay in and keep yourself entertained if the medina has worn you out. But at the end of the day, no number of Monopoly tournaments can compensate for a shower that doesn't drain, unless one of the tokens happens to possess unclogging powers.
The best part about Dar Mouassine may be its location — this was the first guesthouse opened in the Mouassine district, around the corner from the historic Mouassine Fountain and surrounded by some of the medina's best shopping. The glossy Moroccan coffee table books of Berber Fnaque bookstore, silken robes of Maison du Caftan, and candy-colored leather clutches and funky, skull-emblazoned scarves of KIS boutique are mere steps away.