Choosing from among the hundreds of possible places to go on safari in Africa can be overwhelming. But if you want the optimal experience in the shortest amount of time, you'll want to go where you have the best shot at spotting the Big Five on safari. You'll see this term pop up a lot when you do an online search of safari companies. It refers to the five animals you're lucky to spot in Africa: lion, leopard, rhino, elephant and the Cape buffalo.
This article originally appeared on AFKInsider.
1) Masai Mara National Reserve, Kenya
Kenya is Africa's top safari destination with several wildlife parks, but its most popular by far is the Masai Mara Reserve. Between July and October you can catch the amazing spectacle that is the migration of millions of wildebeest and zebra. The Maasai tribesmen are also happy to give tours to supplement the experience.
2) Chobe National Park, Botswana
Chobe National Park is unique because it sits on four distinct ecosystems. The Savuti marsh has one of the highest concentrations of wildlife in Africa all year, and more than 120,000 elephants stomp around Chobe so you can't miss them. If you can, go between April and October when herds of zebra, eland, buffalo, giraffe and wildebeest move to the Savuti marsh. There are several inexpensive accommodation options, including renting a houseboat.
3) Kruger National Park, South Africa
Kruger National Park is home to the largest variety of wildlife in Africa, most notably the Big Five but also hippos, crocodiles, cheetah, giraffes, baboons, and more. Kruger is also a very well-maintained park, making it perfect for a self-guided safari if you'd like to break away from groups.
4) South Luangwa National Park, Zambia
South Luangwa National Park is known for amazing walking safaris, so you'll get a very close look at the wildlife. The park boasts more than 400 species of birds and 600 animal species, and its river is teeming with hippos. If you're fortunate, you'll witness prides of more than 30 lions. The park offers both budget and upscale safari lodging.
5) Serengeti National Park, Tanzania
The Serengeti National Park looks exactly as you'd imagine an African safari landscape to look, with lush, open grasslands that yield perfect views of lion kills. Serengeti is also where the wildebeest and zebra begin their migration and since it's such a large park, it feels less touristy.
6) Bwindi Impenetrable Forest, Uganda
Though not strictly one of the "Big Five," gorillas are one of Africa's top draws. Nearly 50 percent of the all the gorillas on the planet can be found in Bwindi. The forest also offers the chance to spot other stunning creatures such as chimpanzees and various large mammals. Bwindi is protected as a World Heritage Site.
7) Etosha National Park, Namibia
Etosha National Park is the most popular wildlife destination in Namibia, home of Africa's tallest elephants, the endangered black rhino and 91 other mammal species. Etosha has been the subject of many photographers' work, especially in the dry seasons when wildlife congregates around waterholes. Animals you can spot here include giraffe, elephant, lion, rhino and the occasional cheetah and leopard. The park itself does not offer scheduled drives—it's a self-drive park—but nearby lodges and campsites offer guided tours.
8) Okavango Delta, Botswana
The Okavango River ends right in the middle of Botswana's Kalahari Desert, attracting a variety of animal life. The delta offers a rare safari experience as most of it can be explored via a traditional canoe, called a mokoro. The ideal time to visit Okavango is between May and October, when the delta floods and the wildlife flocks to the islands, making it easier to spot them. Several accommodations are available around the river, including luxury safari camps.
9) Ngorongoro Conservation Area, Tanzania
The world's biggest crater sits in the Ngorongoro Conservation area, creating an enclosure for nearly every type of animal found in East Africa. The Maasai still call Ngorongoro home, and it's the site of some of the earliest human remains.
10) Hwange National Park, Zimbabwe
If you see a puppy running around Hwange, don't try to pet it: the park is home to one of the largest populations of wild dogs still living in Africa. As for more conventional wildlife, you can also spot tons of giraffes, elephants and lions, along with more than 105 other mammal species. If you visit Hwange you can scratch two things off your list, as it's right near Victoria Falls.
11) Ruaha National Park, Tanzania

Known as the "other park" on the Southern safari circuit, Ruaha's relative inaccessibility means that there are fewer tourists than the big-draw park of Selous Game Reserve or those on the Northern safari circuit. Along with a stunningly wild landscape, you'll be rewarded for making the effort to travel here by excellent levels of game viewing, including huge elephant and buffalo herds, and very good lion, leopard populations as well as other predators. Ruaha contains a good mix of animals from both east and southern Africa, making it an exciting destination for wildlife viewing.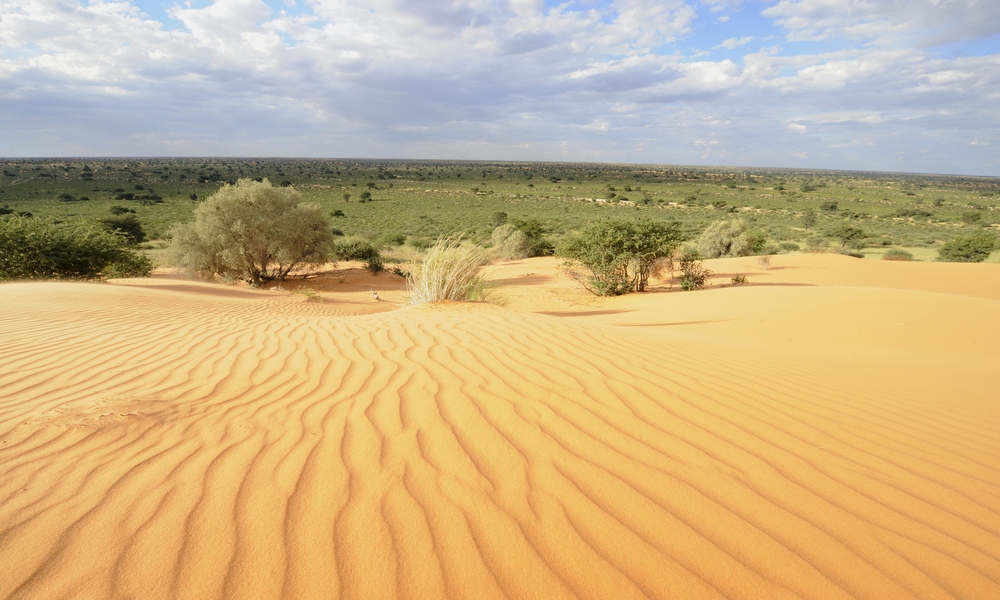 12) Central Kalahari Game Reserve, Botswana
This game reserve is unique in that it was originally established not only for the animals, but also a place of sanctuary for the San, the Bushpeople of the Kalahari, and remained closed to the public for about 30 years. It is said to be the most remotely sitauted reserve in Southern Africa, and the second largest wildlife reserve in the world. It is immense and full of wild beauty and teeming wildlife, including giraffe, wildebeest, as well as members of the antelope family.
13) Moremi Game Reserve, Botswana
Covering almost a third of the entire Okavango Delta, Moremi Game Reserve was first gazetted in 1962 by the local BaTwana people to protect the region for the future. It is one of the finest areas in Africa for wildlife viewing, including lions, cheetahs, hippos and crocodiles. Moreover, the animals in the reserve tend to be more relaxed, often allowing vehicles to approach more closely than is possible elsewhere. It is best visited during the dry season, when wildlife concentrate around the remaining water.
14) Amboseli National Park, Kenya
Amboseli couldn't ask for a more stunning location, situated as it is at the foot of the highest free-standing mountain in the world, Mt. Kilimanjaro (located across the border in Tanzania). It's also the second most popular park in Kenya, after the Masai Mara. Compact in size, Amboseli nevertheless contains a rich diversity of wildlife, in part due to the wetlands formed from the water streams from Kilimanjaro. You'll see most of the big mammals here, including lion, elephant, buffalo, leopard and cheetah, as well as numerous bird species.
15) Selous Game Reserve, Tanzania
This is the largest game reserve in Africa, yet it's surprisingly quiet. It remains relatively untouched African wilderness, yet easily accessible from Dar es Salaam. Indeed, Selous is home to some of Africa's best safari trips. The lifeline of rivers and lakes in the game reserve provide water for a phenomenal volume of game, including Africa's largest elephant population. Buffalo, giraffe, wildebeest and lion are also represented in excellent numbers. Selous is also home to over 50% of the endangered African wild dog.