$0.00
/ See details below
Location: Port Elizabeth
Duration:
Ends on 09/30/2016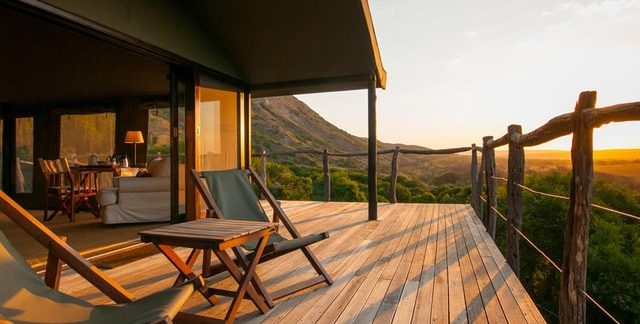 Book three nights at one of the Mantis Collection's three lodges at Amakhala Game Reserve, and enjoy two nights free at one of their luxury hotels. This deal is available if booked by E-MAIL only.
Amakhala is a 7500-hectare, malaria-free Big Five wilderness conservancy that offers a wide variety of terrain, wildlife, and accommodation options. It's located in Eastern Cape province, 71 km (44 miles) from the town of Port Elizabeth.
Participating Amakhala lodges:
Bush Lodge: The 5-Star Bush Lodge is discreetly positioned in the bush at the top end of an open valley in the reserve. Each of the superlative en-suite, tented and thatched suites overlooks a watering point with big sky views. Rates start at US$342 (R5280) per night.
HillsNek Safari Camp: This intimate family-run lodge, set on the banks of the Bushman's River
with a breath-taking vista of rolling African plains, offers an unprecedented safari experience where privacy
and personalized attention is the hallmark of every stay. Rates start at
Participating luxury hotels:
The Last Word Intimate Hotels (Franschhoek or Long Beach)
Lake Pleasant Living
No5 Boutique Art Hotel
This offer includes accommodation, all meals, two game drives per day at Amakhala.
After you pay for your lodge of choice, you get two nights free in a standard room at one of the above hotels, on a bed & breakfast plan.
TERMS & CONDITIONS:
Validity Periods: 1 May – 30 September 2016 and 1 May – 30 September 2017.
Packages bookable via email only.
Subject to the standard Terms & Conditions of the applicable Game Reserve.
All extras at hotels (beverages, transfers, gratuities, spa, gym, telephone, laundry etc) must be settled upon departure from each establishment.
Package, including upgrade fees if applicable is payable to the Game Reserve booked.
All additional nights, extra to Mantis Madness can be booked directly with the hotel at the applicable rate.
All rooms and services are subject to availability at the time of booking.
A maximum of 2 free nights can be accommodated per booking at The Last Word Hotels.
Upgrades at Hotels are available at the time of booking and subject to additional net and non commissionable cost.
The 2 FREE nights do not need to be consecutive nights but need to apply to the same booking.
This special is not combinable with any other special offers currently in the market place.
Child policies may be applicable to certain properties – please enquire.