$15.00
/ Discount applies to annual regular or family memberships under the age of 75.
Location: N/A
Duration:
Ends on 12/30/2017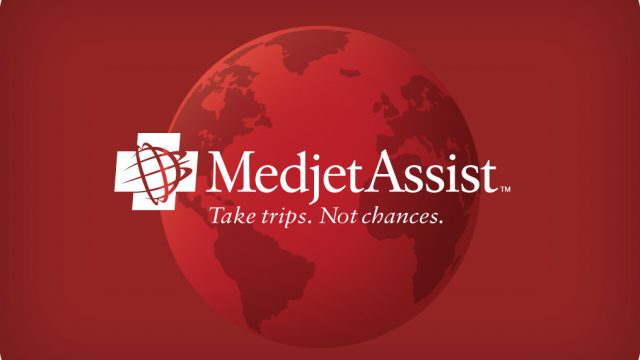 Did you know that a medical emergency happens on one in every 30 international trips?
That's why having travel insurance is crucial. But did you also know that most standard travel insurance plans don't cover medical evacuation, or don't offer enough coverage? Even if you have travel insurance, you could pay up to $100,000 for international air medical transport.
That's where MedJet comes in. If you are a MedjetAssist member and are hospitalized more than 150 miles away from home, you can get air medical transport — to the hospital of your choice in your home country— at no additional cost to you. All you pay is your membership fee.
And now for a limited time MedJet is offering $15 off annual regular individual memberships.
Medjet member benefits Include:
Hospital of Choice in Your Home Country
Air-Medical Transport
Medical Monitoring and Consultation
Travel Health and Safety Precautions
Legal Referrals
Immunization Requirements
Medical Referrals
Transport of Mortal Remains
Emergency Message Relay
Telephone Interpretation
And also importantly:
Medjet asks no health questions (under age 75), has no adventure travel exclusions, co-pays or cost limitations. There are no claim forms, no deductibles, no out-of-pocket expenses. The whole process is handled as the benefit of membership. There are never any additional charges whatsoever after a membership fee is paid.
MedjetAssist staff is on hand, in consultation with the University of Pittsburgh Medical Center, to communicate with attending physicians caring for members anywhere in the world (through translators, if necessary).
MedjetAssist works with more than 80 affiliates and has access to more than 300 aircraft worldwide to provide emergency medical transfer services for its members.
If physically able to fly commercial, members will be accompanied by medical personnel. If commercial air travel is not medically tenable, members are transferred by fully medically equipped aircraft.
Members hospitalized more than 150 miles from home choose the home country medical facility to which they wish to be hospitalized.
A variety of membership options are available, from individual and families to short-term and Diamond options for travelers over the age of 75.